Erin Brown - ACF (FCCQ) International All Breeds



Email: quanmarrasalukis@gmail.com
Mobile: +61 407 116 588
Address: 2297 Beechmont Road
Beechmont Qld 4275

Closest Airport – Brisbane (BNE) or Gold Coast (OOL)

Erin has been an All Breeds judge since 2008 with ACF and has judged internationally in the USA, The Philippines, China, Malaysia, UK and New Zealand, as well as in all States of Australia. She is also a Guest judge with TICA. Erin enjoys judging and breeding both cats and dogs; she says "quality animals are my interest and passion".

The first show cat entered her life as a birthday present in the 1960s, and from then on Siamese and Oriental Shorthairs have become a permanent fixture in the household. Quanmarra Siamese and Orientals enjoyed a very successful showing career with many prestigious wins over the years – with local, interstate and overseas, with cats we exported – including All Breeds International Cat of the Year for TICA in 2000.

Erin believes that we all have a responsibility to put some effort back into the animal fancy, to make it a better hobby for everyone. She holds the role of President of FCCQ and has been on the management committee for a number of years. She also holds an ANKC and FCI license to judge dogs at an international level.

Her home is decorated with a collection of retired show cats – Maine Coons and Oriental Shorthairs who share with Miniature Smooth Dachshunds and Salukis. When not at shows, Erin can be found at Paws and Whiskers, a "five-star" boarding complex, she owns in partnership with Penny Dunkley.
---

Penny Bydlinski - FIFe Cat I,Cat II & Cat III - FCCQ Group 2
Email: penny@penbyd.com

Closest Airport – Gold Coast (OOL) Coolangatta
Penny Bydlinski was brought up in the United Kingdom with cats of one sort or another but bought her first Burmese in Canada in the 1960s. She bred Burmese under her prefix of Penric from 1969 to 2007. She has also bred Persians and, together with her partner Roger, Abyssinians under the prefix Rydene. Although Burmese will always be her first love, Abyssinians run a close second; it is a breed about which she feels very strongly.

She qualified as a FIFe judge for shorthairs in 1981 and later for both the Longhair and Semi-longhair categories. She was on the FIFe board from 1993 until her retirement in 2005, having been General Secretary for 10 years. Penny has judged extensively all over Europe, South America, Indonesia and Malaysia, as well as in Australia and New Zealand.

She was Chair of the first FIFe member in the UK and actively involved in its successor, serving on both the Show and the Judges Commission as well as being Chair, until her retirement in 1975, of the Garden of England Cat Club that she founded in 1991.

Penny is now semi-retired and living high in the hinterland of the Gold Coast in Queensland. She is still Secretary of the World Cat Congress, a post she has occupied since 1995 and which she enjoys very much as it gives an opportunity for meeting and exchanging ideas with people from other organisations around the world.

She now has more time to enjoy her hobbies of books, embroidery, theatre and gardening in the very beautiful surroundings where she lives with the company of her three cats, a black Exotic neuter, a brown Burmese neuter and, of course, an Abby neuter.

In 2011, FCCQ invited Penny to become its first Honorary Judge and the Council was delighted when she accepted. Penny was presented with her FCCQ Honorary Judge badge at the October 2011 show and will be invited to judge on a regular basis.
Ben Dyett - FCCQ Companion Judge

Phone 0407 358 369
Address 15 Laser Court,
Burpengary East Qld 4505

Closest Airport - Brisbane (BNE)
Ben lives north of Brisbane in the town of Burpengary East. He joined the Queensland cat fancy after moving up from Victoria in 2010. He breeds Burmese and Mandalay cats and enjoys volunteering at shows in various roles. He has also recently has designed and built a website for assisting making the running of cat shows more enjoyable.

Outside of the Cat Fancy, Ben is an IT Network manager for the Queensland State Government and also enjoys Martial Arts – he is a Fourth Dan Black Belt in Taekwondo.
Marion Cooper - ACF (FCCQ) International All Breeds
Email: glevum@optusnet.com.au
Mobile: 0401 085 533
Address: 8a MacGroarty Street
Coopers Plains Qld 4108

Closest Airport - Brisbane (BNE)
Marion Cooper is an Australian Cat Federation (ACF International All-breeds Judge who began judging in 1983. She has judged extensively all over the world. Marion has also been involved in training students in the preparation and care of cats, both as pets and for show.

Marion began breeding and showing Persians in 1979. She has successfully bred many Best in Show Persian and Exotic exhibits in Australia and New Zealand under the "Glevum" prefix, including a Kitten of the Year. She has also successfully shown a Black Smoke Persian to Cat of the Year. She previously bred Abyssinians.

Marion is a member of the Feline Control Council of Queensland Inc. (FCCQ) Management Committee and one of FCCQ's tutor judges. She has also previously been an all-breeds Registrar.

Marion has designed and been webmaster for several CCCA and ACF Councils, as well as a number of cat clubs and catteries. She enjoys building web pages with the aim of making them interesting, informative, fast-loading and fun.

She is an active member of the Siamese and Shorthair Cat Club of Queensland Inc. and is interested in all things to do with cats.
---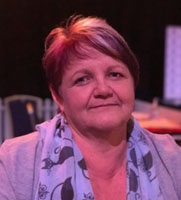 Jo Dennington - FCCQ Open Shorthair Judge and Group 4 Companion Judge,

Pine Mountain Qld
Email: reshkycats@bigpond.com"
Ph: 0438614913

Closest Airport - Brisbane (BNE)




Jo has always had a love for cats. In the year 2000 Jo started showing Siamese and Orientals in Northern NSW, and went on to breed Siamese and Orientals for some years. In 2006 Jo became the proud owner of a desexed British Shorthair and began to breed British Shorthairs a short time after. Jo moved to Queensland in 2011 and has been involved with the Queensland cat fancy since moving. Jo is the current President of the British Shorthair and Feline Friends.

In 2014 Jo imported her first American Shorthair and is continuing to bred British and American Shorthairs and more recently Scottish Folds.
---
Karen Evans - FCCQ Companion
Phone: 0438 620 974
Address: Norman Park. 4170

Closest Airport - Brisbane
I grew up with a large family and pets and have been working in an office for most of my life. I got involved with cat rescue in the early 1990's and then move on to join a Cat Club and learn to run cat shows and then became a Group 4 Judge (Companion Judge).

I had my daughter Meena in 1996 and only worked part time from then with children with disabilities, I have also been on my daughters school P & C as Secretary for many years. At home I have a mix bag of furry kids, 5 cats and my special little dog Mocky (Portuguese Podengo).
---
Isobel Johnstone - ACF (FCCQ) International All Breeds
Email: johnstonei@optusnet.com.au
Mobile: 0412 770 595
Unit 145, 269 Cliveden Avenue
Corinda Qld 4075

Closest Airport - Brisbane (BNE)
Dr Isobel Johnstone has had a lifetime career as a Veterinary Scientist at The University of Queensland (UQ) and is a former Director of UQ's Companion Animal Clinic.

Isobel has bred Abyssinians since 1976 and, although she no longer breeds Abys, they of course still share her home. She has vetted at cat shows for 20 years.

Isobel joined the Siamese and Shorthair Cat Club of Queensland in 1976 and is now a life member. She has been that club's Secretary and Treasurer. Needless to say, she is also an experienced show manager. In addition to being a long-serving senior judge, Isobel has held positions over the years as a tutor judge; been Chairperson of Judges Associations; and has been a delegate to, and on, committees of various cat organisations.

Isobel became a Group Three Judge in 1983; a Group Two Judge in 1987 and an All-breeds Judge in 1997.
---
Jenni McKernan - ACF (FCCQ) Allbreeds
Email: alarveshounds@gmail.com

Ph: 0408 425 423
Address: PO Box 33
Dayboro QLD Q4521

Closest Airport - Brisbane (BNE)
Jenni's obsession with cats started at a very early age and this passion has continued throughout her life. She has always been owned by several cats and has bred and shown Abyssinians since 1989 under the "Asmara" prefix. She successfully bred many Best in Show Abyssinians, specialising in dilutes and she bred Abyssinian of the Year in 2000, 2005, 2006 and 2009. More recently, Jenni has also bred and shown Ocicats, using "Asmara OCI" for naming her Ocicat progeny. Asmara Ocicats have also gained Best in Show and COY awards.
Jenni is a Feline Control Council of Queensland Inc All Breeds Judge. She completed steward training in 2003 and continues to enjoy that role as it allows her to handle many different breeds and to continue to learn from all the judges with whom she works. She is also an experienced show manager who likes the challenges associated with running a successful cat show. Jenni began her judge's training in 2006, became a Companion judge in 2007 and was licenced as an Open Group 2 judge in 2011. She extended her licence to include Group 3 and became an Open Shorthair judge in 2013. Jenni completed Longhair training in 2016 and is now an All Breeds Open judge.
Jenni is currently the Vice President of Feline Control Council of Qld Inc. and an active member of the Siamese and Shorthair Cat Club of Queensland Inc. and the Classy Cats Cat Club Inc. She has a special interest in feline behaviour, genetics, and health and welfare issues.
Jenni has been a qualified veterinary surgical nurse for over 25 years and, while still enjoying that role on a part-time basis, now manages the Queensland operation of a national veterinary products distribution company.
---
Belinda Penglis - ACF (FCCQ) International All Breeds
Email: belinda.penglis@bigpond.com
Ph: 07 3390 4417
Mobile: 0408 455 808
Address: 138 Stanbrough Road
GUMDALE Qld 4417

Closest Airport - Brisbane (BNE)
Belinda has successfully bred and shown Siamese and Orientals under the "Serendippidee " and "Diamante "prefixes since 1975, producing several Cat, Kitten and Neuter of the Year winners. She began Judging Group 2 in 1987, extending to Group 3 in 2006, and gained her All Breeds Licence in 2008. She still gets an enormous buzz out of watching kittens grow and her philosophy has always been to breed well-balanced, healthy, happy kittens for people who love the Siamese and Oriental breed.

Away from cats, Belinda has a Ph.D. in Parasitology and is a Senior Veterinary Pathology Scientist. She also teaches Contemporary and Classical Ballet to professional level, and is a Mentor as well as a Practical Teaching Supervisor for the Royal Academy of Dance (London).

She has been an active member of Siamese and Shorthair Cat Club of Queensland since 1975 and is now a Life Member and Shorthair Tutor for FCCQ Inc.
---
John Sandercock - FCCQ Open Longhair Judge & Group 4 Companion Judge

Email: birmans@feanor.com.au
46 Federation Drive,
Hillcrest Qld 4118
Phone: 0415 489 244

Closest Airport - Brisbane John grew up on a dairy farm where he looked after the farm cats. He always had a rescue cat from the RSPCA until he acquired his first pedigree cat, a blue point Birman breeding girl in 1997 and joined the Birman Cat Fanciers of Queensland Inc (BCFCQ). He has been an active member of the BCFCQ, participating in many cat shows as a ring clerk, steward, show secretary and show manager. An interest in computer programming led him into writing a computer program to aid in the task of organising a cat show and printing show catalogues. He fell in love with the red point Birmans when he saw them at a show, and started breeding for that colour. He currently has several red point and tortie point Birmans who allow him and his wife to live with and look after them.

---
Robbie Walker - FCCQ Companion Judge
Mobile: 0429 422 131
3 Bagan Court,
Mudgeeraba Qld 4213
Email : walker.robbie56@gmail.com

Closest Airport: Gold Coast (OOL) or Brisbane (BNE)

I entered the cat fancy in 1997, breeding Scottish Folds and British Shorthairs under the prefix Glencairn and later Duart. I gained my Group 4 licence with QFA Inc. in 2010. Over the years, I have held various positions within the Cat Fancy, initially in NSW before moving to Queensland in 2007. I still enjoy the active roles that I undertake in various aspects of show management.

Currently I am the Honorary Council Steward of the Cat Section with the Royal Brisbane Show and also the Chief Steward for the Sydney Royal Easter, and since 2012 have taken an active involvement with running three ACF National shows.

I currently hold the positions of ACF Treasurer and ACF International Liaison Officer. The latter position is both exciting and challenging, which involves the co-ordination with other cat associations in Australia and New Zealand to share and invite judges from international associations. Additionally promoting and raising ACF judges profiles to overseas associations and further ACF's standing on the world stage. I joined FCCQ in late 2017 and look forward to long association with them, in whatever role I undertake.
---